Long time no blog!
Long time no blog…
It's been a while since I last wrote an article for this blog. The last time I wrote a new article was in May and it's now November!! It's certainly been a busy few months in the Irish Techie house!
Let's talk about what's been happening.
It looks different around here…
A few months back, I moved my blog over to Azure Static Web Apps. I'm using the free hosting plan which is perfect for my needs. Over the last few months, I've also been experimenting with using Hugo instead of Jekyll as my static site generator. This is purely a personal choice and mainly because I wanted to try something new. You can find out more about Hugo and Jekyll by clicking the links.
I've used both site generators with Azure Static Web Apps, so if you run into any problems, I'd be happy to help. Just reach out on the socials.
In addition to the new static site generator and new hosting location (neither make a lot of difference to the reader), the site is also sporting a nice new theme and a cool new TLD!! I'm excited to add the '.cloud' TLD to this site. The new primary domain name for Irish Techie is irishtechie.cloud!
There was BLUE hair…
In my last article, back in May, I talked about how my wonderful wife was going to dye my hair blue and how we were going to use the opportunity to raise some money for charity at the same time.
Check out some pictures below. Including a picture of the day I went to get my second COVID vaccine!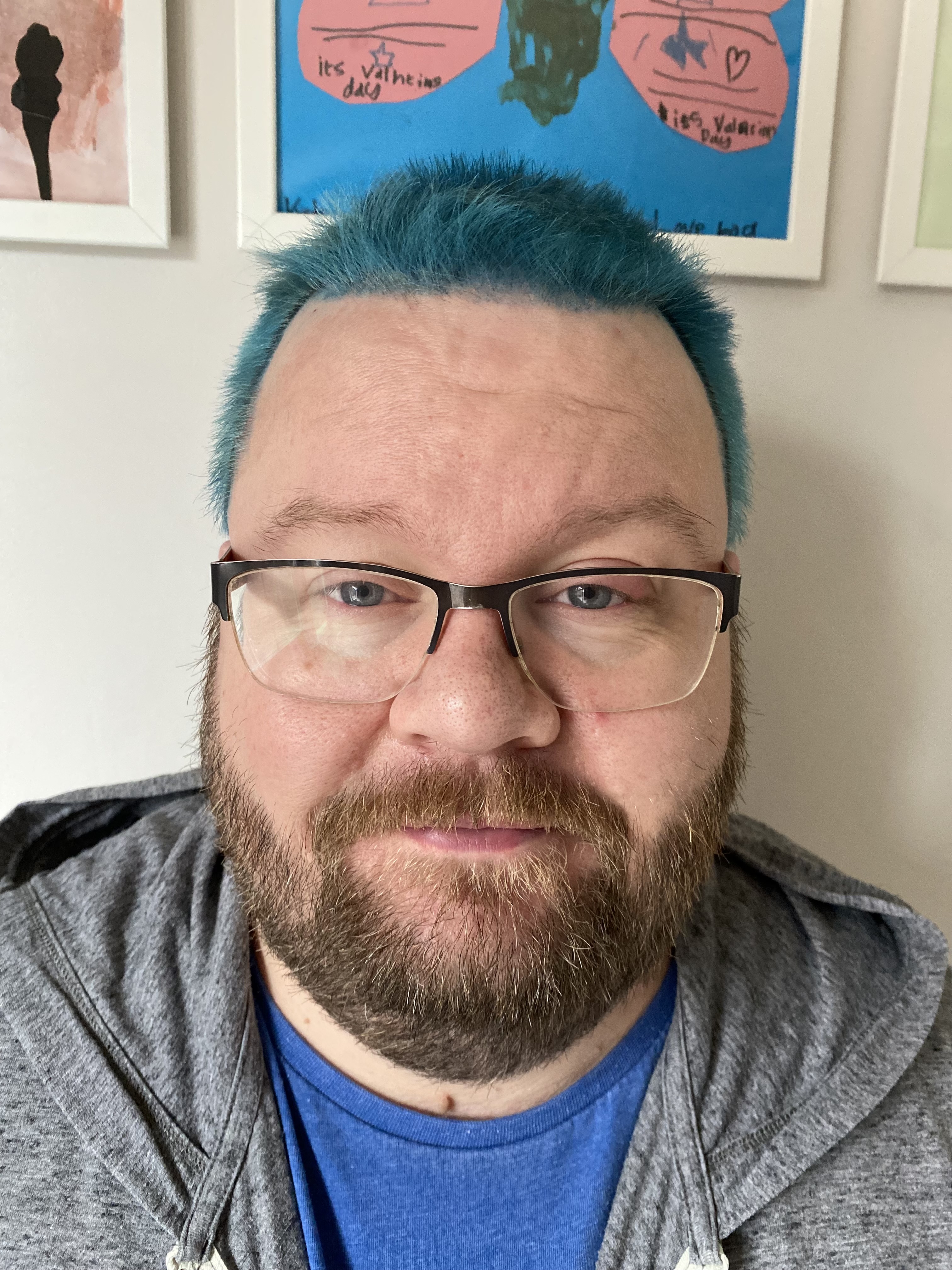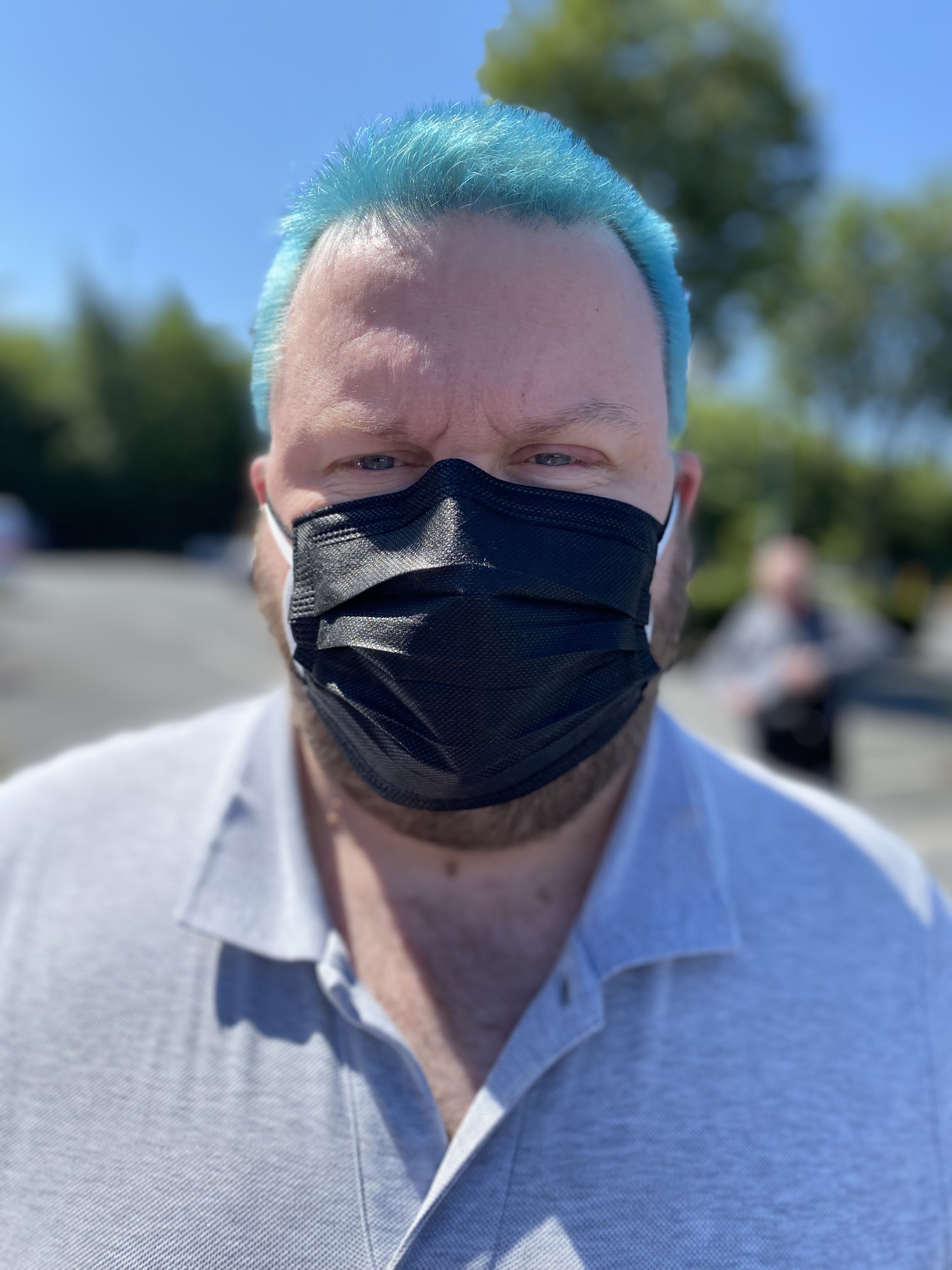 We were able to raise an amazing £2200 to be split between our four chosen charities. Thank you so much to everyone in this awesome community who took the time to donate and/or spread the word about our fundraising efforts. Thanks to all of you, we were able donate over £500 to each cause. Find out more about the causes we supported by following the 'last article' link above.
I started a new job!
On July 1st, I started a new job as an Azure Consultant at Intercept. As Intercept are based in the Netherlands, this is a fully remote role. If you don't already know, Intercept are an ambitious, award winning Azure Expert MSP who specialise in helping ISVs with their Azure journey. I am just rounding out my 4th month with the company and I couldn't be happier with the decision to join this team. I am privileged to be able to work with and learn from a very talented team.
We moved house!!
As if changing jobs wasn't enough, we decided to move house at the same time. We had outgrown our old house and my move to Intercept meant I really needed a dedicated home office and not just a corner of the kitchen or bedroom for COVID enforced work from home. Our new house has a 4th bedroom, which is now an office and a decent sized back garden for the kids to play in.
One other positive about moving to this new area is that I am about 2 minutes away from fellow community member Thomas Thornton. We really need to get together for a coffee at some point soon!! :P
Earned some new Azure badges!!!
While all of the above was going on, I was also studying for a few Azure exams. In August, I took part in the AZ-700 (Azure Network Engineer Associate) Beta. It was my first ever beta exam and, to be honest, the wait for results was excruciating!! The beta results were released at the end of September! If you follow me on Twitter or LinkedIn, you will know that I passed the exam!! :)
While waiting for the beta results, I also sat and passed the AZ-303 and AZ-304 exams, earning me the Azure Solutions Architect Expert certification!
I'm really pleased to be able to add both of these badges to my collection! Now that they are done, I am switching direction slightly to sit some Linux certifications before starting preparations for CKA and CKS (Kubernetes) exams. I haven't decided which Linux exam I am going to sit yet. It's between the Linux Foundation Certified System Administrator (LFCS) or the Linux Professional Institure LPIC-1.
---
As you can see, it's been a pretty busy few months between moving house, studying for some exams, trying to make a good impression at my new job. I'm hoping to be able to dedicate some more time to writing regular content for this blog. Fingers crossed!!
Thanks for reading. Feel free to reach out on the socials!!