Reviewing 2021 and Looking Forward
I've been blogging, on and off, for just over a year now. Since I started blogging, I've been in two minds about whether writing a "Looking back…" article is worth doing or not. This year, I've decided that it IS worth doing as a record of what happened in 2021 and for calling out what I want to achieve in 2022! I will use this to help me with accountability as we enter the new year.
Looking back…
Over the last year and a bit, I've been trying to blog and contribute the the tech community as much as possible. I'm privileged to be a member of the Azure and Cloud Family tech communities and want to help people by giving back as much as possible. In hindsight, I would like to have contributed more in terms of blog content. I look forward to putting that right this year!
Community
In terms of community contributions, I'm delighted to have been involved with the following initiatives. Thank you to each and every community member who organised and attended the user groups, livestreams, and other sessions I was able to take part in over the course of 2021.
Limerick DotNet and Azure User Group (LDNA): In February 2021, I was delighted to join my friend, and former colleague, Sakaldeep Yadav as co-organiser of the LDNA User Group. I've met some awesome community members at our online sessions. We've held 10 Virtual User Group sessions in 2021! You can find out more about the group on our Meetup Page or check out the recorded sessions on our YouTube Page.

Cloud Champion - April 2021: Amazed to have received the Cloud Champion award from the Cloud Family community in April. Thank you to all of the organisers behind this awesome group. You can read the accompanying writeup here.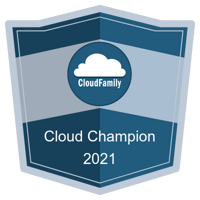 In Conversation with… JonnyChipz: Also in April, Thomas Thornton and I joined John Lunn aka. JonnyChipz for an episode of "In Conversation with…". This was recorded a few weeks earlier and was the first thing of it's type I had ever done. Thank you so much John for having me on your show. Look forward to being on again in the future. You can see the recording of the show below if you're interested.
Cloud with Chris: April was a busy month!! I'm thankful to have been able to join Chris Reddington on his Cloud with Chris livesteam. This was another first for me. It was the first of two livestreams where I took over as a guest host and interviewed Chris on the Azure architecture and automation behind his www.cloudwithchris.com website. Definitely an interesting session if you're interested in hosting your blog or other static site in Azure. Check out the recording below.
Cloud with Chris again: In June, this time, I returned to take over Cloud with Chris again. For this livestream we went deeper into the automation side of the www.cloudwithchris.com website. We discuss Chris' use of GitHub Actions to streamline the content creation process as much as possible. Another fun session, link to the recording below.
Dying my hair: In June, as I was finishing up my notice period with ActionPoint and transitioning to Intercept (more about that below) my wonderful wife, Rebecca, had the great idea to dare me to dye my hair Azure blue! We decided to use it as an opportunity to raise some money for 4 very deserving causes. We raised a fantastic £2200! Thank you to each and every one of you who contributed either by donating or sharing the tweets or both! You can read more about the causes we supported and how I ended up with blue hair here. Check out how bright the blue was on the day I went to get my second COVID-19 vaccine!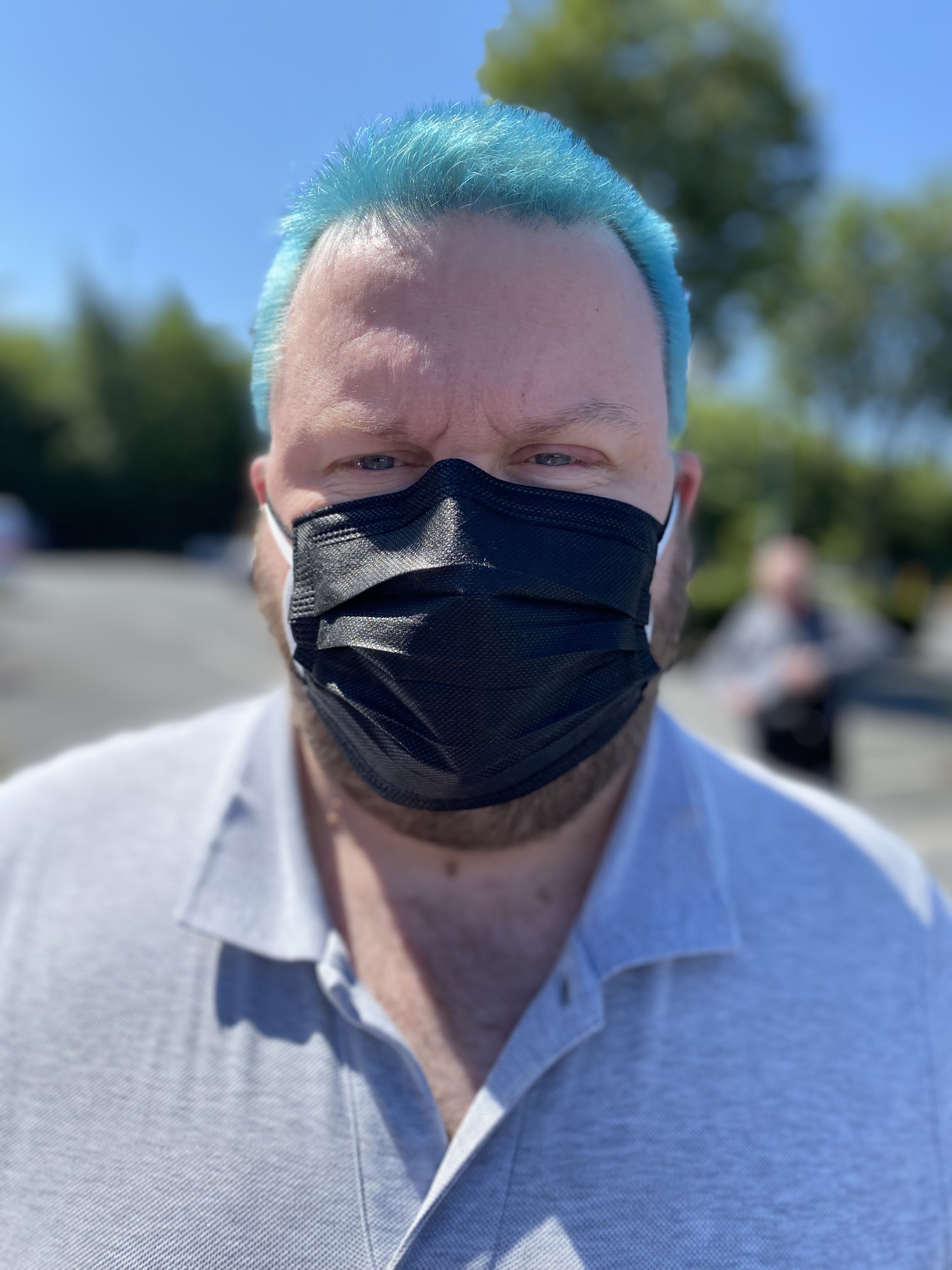 Cloud with Chris again again: With Chris not being sick of me yet, I returned for a 3rd time in August to his show. Another livestream along the same lines as the first two. This time was focused on an Azure-powered Integration Platform that Chris was building. With a focus on making community contributions as streamlined and efficient as possible, we dive into how to use various Azure services to make the process of posting on the various social media platforms a walk in the park. Check out the recording below. Thanks a lot to Chris for allowing me to take over this show and for allowing me to contribute to the community alongside him.
Azure Crazy Interview: In about September time, Imran Rashid interviewed me for the AzureCrazy.com site. There are loads of great interviews from amazing community members on this site. Thanks so much Imran. You can check out my interview here.

Azure Back to School 2021: I was delighted to take part the Azure Back to School initiative organised by the awesome Dwayne Natwick. Thomas Thornton and I recorded a session titled "From Zero to GitOps with AKS". Check out the recording below and hit this link to get access to the rest of the community content from this event.
Festive Tech Calendar 2021: Organised by community big hitters Gregor Suttie and Richard Hooper, the event brought together multiple Microsoft communities including Azure, Microsoft 365, Power Platform, and Data Platform. For this event Joe Carlyle, Alan Kinane, and myself held an Azure Networking AMA (Ask Me Anything) on Twitter Spaces. This was fun to do. Unfortunately, we weren't able to record the session but I am looking forward to doing another one in the near future.
New Job
In July I joined Intercept B.V. as an Azure Consultant! I was, and still am, very excited to have joined the team at Intercept. I am privileged to work with some very knowledgeable colleagues. I'm learning so much! As I write this, I've been working for Intercept for 6 months! I feel very lucky to work for this amazing company and am looking forward to the next 6 months.
We're hiring currently, check out the vacancies page for details on open roles.
Certifications
2021 was a busy year in terms of exams and certifications. I studied for and passed 4 Azure exams over the course of the last year, including one beta exam! If you follow me of Twitter, you will know that the wait for the AZ-700 results was excruciating for me!! :)
Certs earned in 2021:
See below for details on the qualifications I earned and some links for more details.
Microsoft Certified: DevOps Engineer Expert (AZ-400) - Details
Microsoft Certified: Azure Network Engineer Associate (AZ-303 and AZ-304) - Details
Microsoft Certified: Azure Network Engineer Associate (AZ-700) - Details
Thankful for…
I wanted to take a moment in this wall of text to tell you what I have been thankful for this year. This has been another difficult year for my family. For the most part, COVID-19 has ensured that we haven't been able to visit our American family for another year. Thankfully, the restrictions in the US, UK and Ireland relaxed enough to allow my mother-in-law to fly in from Michigan to spend a month with us in November. Fingers crossed that travel improves in 2022 so we can all see our family much more than we have over the past two years.
I'm also very thankful for my wife, Rebecca, she is the most supportive and amazing human being. I couldn't have the career I have or contribute to the community without the support of this wonderful woman. I look forward to returning the favour in the very near future.
---
Looking forward…
I'll keep this section brief but wanted to record my goals for the coming year so that I can stay accountable. If you find me slacking, feel free to call me out!!
Firstly, the most exciting thing about 2022 is that my wife, Rebecca, has decided that she wants to break into the IT industry. Rebecca is a qualified teacher and wants to change careers to IT and specifically the cloud. I'm excited to support her in whatever way she needs, just as she has done for me over the years. We are focusing on IT Ops fundamentals initially. After that, the sky (or the cloud) is the limit! You'll hear more about this journey over the course of 2022!
Learning
Personally, I will be mostly focusing on the Cloud Native space in 2022. I am looking forward to learning more about the cloud native space and about Kubernetes in particular. To get me started on that journey, I'll be looking at the following areas and qualifications (not in any particular order):
Linux Refresher: I'll start the adventure with a refresher on Linux.

Bash: One thing I definitely want to upskill in is Bash scripting. Looking forward to learning alot more about this.

Kubernetes: As we work with AKS (Azure Kubernetes Service) alot at Intercept, I definitely want to improve my Kubernetes skills. I want to pass the CKA (Certified Kubernetes Administrator) and have attempted the CKS (Certified Kubernetes Security Specialist) by the end of 2022.

More Linux: As you might know, a lot of the cloud is built on Linux servers. I want to validate and expand my Linux knowledge this year. I find the best way to do that is by preparing for certifications. This year, I am looking at the LFCS (Linux Foundation Certified System Administrator) and LFCE (Linux Foundation Certified Engineer). I want to have passed at least one of these by the end of the year!

Python and/or Golang: Python and Go seem to be everywhere in the cloud. I want to start exploring both of these languages. Not to expert level by any means but to a level where I can read and understand the code.
In addition to the above, I also want to familiarise myself with .NET and C#. At Intercept, I work with ISVs and most of our client applications are built using .NET/C#. It will be useful to gain an understanding of them and to be able to "hold my own" in a conversation.
I'll be writing about my learning journey with these technologies on this blog. Look for anything titled "My Cloud Native Adventure".
Community
As well as documenting my learning journey and giving back to the community via this blog, I want to continue to grow the LDNA user group. I also want to start presenting at some Azure user groups, either solo or as a joint session. I want to continue to push myself outside my comfort zone this year.
In 2022, I want to help more people getting started in this industry. So, whether it's a chat about which cloud or technology to pursue, career advice, what exams to take, or what learning materials to use, feel free to reach out to me on the socials. I'm always happy to help.
---
Thank you for taking the time to read this article. Feel free to reach out on social media if you want to chat or discuss any of this further.